I was rummaging around in my VK scans folder and I ran into this. I might translate Seika's and Tsukasa's pages later. I'm missing Shunsuke's page, though, which sucks :/ If someone has it... *wink wink*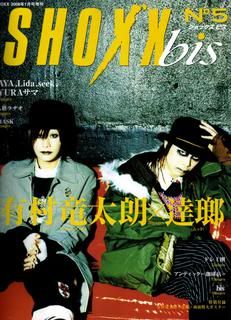 "The Question of Hundred Items"
Maru (vo) / bis
SHOXXbis vol.5
/SHOXXbis January, 2006
Birth year/month/day?
June 17th
Blood type
B
Place of birth?
Tokyo
Height and weight?
Dunno
Shoe size?
25 or 26?
Ring size?
13~17
Do you smoke? Brand?
CAMEL MILD
Favourite perfume?
DOLCE&GABBANA light blue/ I♥Dior
The model of the phone you're using?
White Yashi
Ringtone?
a good song
Memory of the phone?
enough
Favourite brands?
Plenty but if it fits you well, anything is good, right?
Favourite color?
tea, black, white
tea, probably as in khaki or beige of some sort
Favourite saying?
Rock'n'-roll!
Favourite food?
Depends on mood
Disliked food?
Talking about Japanese [food], pork
He actually wrote "Talking about/in Japanese language"?
Do you cook? Your specialty?
-
Hobbies?
movies
Special skills?
Dunno
Strong points?
Baka
Faults/mannerisms?
If I saw them I might know
I'm not 100% of the question's kanji, the scan is a bit blurry
Daily routines?
-
What teachers wrote a lot in your report card when you were a student?
-
My current craze?
Water?
Your most attractive feature?
[Everybody,] feel free to choose
Weak points?
-
Things you collect?
Glasses, sunglasses, accessories
What kind of apartment/room are you living in now?
Ordinary apartment complex
Favourite place?
bed
Places you'd like to visit?
don't have any
What do you do on your days off?
I spend one day doing nothing.
He wrote "uselessly, in futility"
Something you bought recently?
Glasses
A movie that you saw recently?
"The Whole Ten Yards"
Troubles/worries lately?
Too much work
How do you relieve stress?
Don't know
The most important thing currently?
don't want to say
People you respect?
do exist
When was your first love?
-
Did that love bear fruit?
-
as in, did it develop or was it unrequited.
The preferred type of opposite sex?
depends on mood
Disliked type of opposite sex?
Impertinent girls.
What are you looking for in a girl?
eroticism
...he refuses to answer a bunch of innocent questions and here he decides to be honest? Men.
What kind of fetishes do you have?
-
What kind of clothes do you like on a girl?
-
Behaviour that would shock you in a girl?
Dunno.
Have you confessed your love to the girl you've liked?
yup
What would your ideal date be like?
Through (smile)
as in he would get through the whole night? Could also be read as "nonstop"?
What color is romance?
-
[Something about getting a present from a girl? The kanji is blurry.]
Something I wanted at that time.
Do you wish to marry?
No
A name you wanted to be called by when you were a kid?
-
Ideal man's image?
sexy guy
Good things about being born as a man?
none
If you could choose, would you want to be born as a man or a woman?
Don't care
(/wouldn't matter?)
Why's that?
No reason.
What do you look at in person at first meeting?
eyes
Childhood dream?
have come true already
In what will you find pleasure when old?
Rock'n'-roll
Something that is wrong about the society?
How it stinks in the trains during summer when it rains.
How old do you think you are mentally?
don't know
How much money do you have in the wallet today?
Checking up would be troublesome
Are your waking/sleeping habits good?
bad
Is believing in faith okay?
-
Personally, I was a bit surprised he skipped this question, thinking about bis' lyrics and all :/
What interests you the most at the moment?
manga
The biggest prank you've done to a band member?
Won [him] in kakkun (smile)
Not quite getting it myself but there's at least an online game site called Kakkun..?
The best thing you've done until lately?
Self-control[/patience]
The most expensive thing you've ever bought?
-
"I have hidden it until now but actually, truth is XXX!
ekstra baka
First experience of something lately?
not anything special
The biggest opponent in life?
myself
If I hadn't become a musician...
Had or had not, it would be awarding
The kanji was a bit smushy, 'award' might be a wrong word.
What kind of grades[/score] would you give to the current you?
...
What do you think during lives?
Relevant things
What do you do always before a live?
Boozing
What do you do always after a live?
Boozing
What lives mean to you?
My own location
Instrument you use
microphone
Fill in please: "In 2006 I XXX"?
nothing absurd happened
"Truth is, I have a good relation to musician..."
? Don't know the kanji he used. I'm unsure about the question too.
One thing only you wouldn't sell/hand over?
Don't want to say
Your favourite song out of your own songs?
[Songs that are]caused by feelings
Lol, I know bis songs rather well but just checking: they don't have song called "Kibun ni yoru", right? :D
The minimum rule of yours?
Can't think of any
as in That One Rule you live by, I think
A thing that isn't enough for the current you
economical point of view
What if you could be a member of another band?
Who I would like to become? Is that how?
What if [and something, couldn't figure out the kanji]
I'd be a rich man [for my whole lifetime]?
What do you want to eat right now?
Chinese food
Person you would like to meet the most right now?
A guy who formerly passed away/I departed with
[Something about a song or album he appreciates at the moment? Blurry kanji.]
Supernova/ELLEGARDEN
Artists you like?
Koda Kumi/EXILE/ELLEGARDEN/Def Tech/Dragon Ash
Your favourite celebrity[=public entertainer]?
Yuko Ogura
A gravure model, lol.
A celebrity you've said to resemble?
dunno
Do you have any plans what you would like to do with SHOXX after this?
A volume for only bad bands.
What music means to you?
[A some sort of way to deliver his thoughts, sorry, can't read the kanji]
What bis means to you?
That time, the feelings of the "real us" of that time
Aspirations from now on?
Complete demolition!
A message for you in ten years?
Still alive?
A message for the other guys[in ten years?]?
Those guys really were extra baka (smile)
A message for fans?
Let's become extra baka!
Is it just me or does he give a really bored/reluctant/not-interested-at-all impression throughout the questionnaire?
Current Mood:

exhausted